There are many approaches to move the fossil energy industry in a different direction. The modern use of regenerative energy sources such as biomass, direct solar energy or wind energy is one of these possibilities, which leaves a lot of space for creativity and social visions. But regenerative energies, with increasingly more efficient technologies and growing market share, are competing with one another more intensely for free plant locations, customers and social acceptance. This offensive advertising of energy sources and technologies in Germany is unusual, but in my opinion it is also very useful and leads to an increase in the speed of innovation in the entire industry and prevents premature resting on what has already been achieved. How well is bioenergy positioned in this campaign for attention and acceptance?
I cannot say that I am particularly well suited to provide an as objective answer as possible to this question, as I strongly support the Benefits of bioenergy believe as a regenerative form of energy. For me it fits perfectly into the time and is the ideal bridge energy. It can be integrated relatively economically into the existing energy industry based on combustion technologies and still opens the way for other, more revolutionary forms of energy. This applies particularly to the mobility track (Biofuels).
Sex appeal of regenerative bioenergy
Despite all of my personal convictions, I also know that bioenergy is often a bit more difficult in the public perception than my colleagues from solar and wind energy. These energy sources, which are not based on the combustion of carbon-containing substances, make a significantly cleaner or more provocatively worded "sterile" impression, at least when it comes to energy generation (not when manufacturing and recycling the systems!).
Bioenergy, on the other hand, produces stench, has to do with waste and is sometimes heavily exaggerated as an important factor in the "exacerbation of famine and deforestation around the world". Of course, these boundary conditions do not necessarily contribute to the attractiveness of bioenergy and as a voter and consumer you will instinctively distance yourself from this form of energy in some horror scenarios and in any case not feel magically attracted. So does bioenergy have an image problem and does it lack the pure radiance of wind and direct solar energy?
Just as problems of bioenergy often come to the fore in public discussion, this question can often be answered with yes. A balanced discussion about the dangers and potentials of bioenergy and a rational comparison with the current alternatives takes place too rarely, at least in the daily newspapers. This is a shame for an energy source that is one of the most social (job preservation), most efficient and cheapest renewable energy sources that we are likely to have at the moment and in the next 25 years.
I am an absolute supporter of all forms of renewable energy and believe that only a mix of them can present a solid team that is able to replace the strong predecessor resources of coal and natural gas (and oil) in the areas of heat, electricity and fuel. Nevertheless, the disappointment cannot be dismissed out of hand because of the sometimes lack of public support and lack of courage to work for bioenergy.
I believe that so little is talked about the strengths of bioenergy and, above all, about its weaknesses, is also due to a lack of "sex appeal" of this form of energy. To speak of the sex appeal of bioenergy is a bit daring, but without sufficient sex appeal it is difficult for an ecological movement, since economic, ecological and social factors are sometimes insufficient to link it to a long-term vision and to gain the necessary political backing .
High tech is sexy
So how can the image of bioenergy be polished up a bit? That is not a very easy question to answer. There is certainly no point in imposing something on bioenergy that does not correspond to its nature. Swimming on the same "cleantech" wave as solar technology is probably not the right way to go, as stench, microorganisms and combustion simply appear "dirtier" and can cause a certain disgust. An image campaign for bioenergy should be authentic and it can do that with the many advantages.
A technical product, for example, is often perceived more as "sexy" if it has the label "high-tech" and perhaps it would be a sensible strategy for bioenergy to emphasize its high-tech character. Bioenergy has plenty of opportunities to improve its image by relying more on its interfaces to biochemistry or something more daring to genetics. Of course, genetics is not entirely unproblematic, as its methods are not undisputed in society.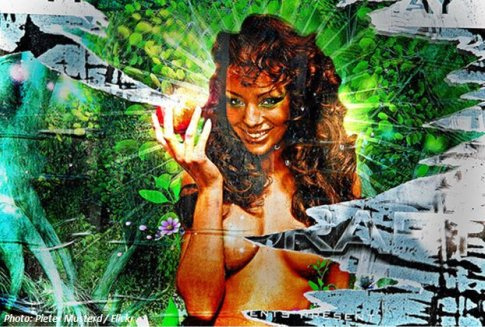 It is mysterious what attraction the fruit of the (forbidden) apple can develop in our western society and I would be interested in how strongly the success of the Apple company is also based on the erotic charisma of the company symbol. Fruits or biomass in general can be sexy. How can bioenergy benefit as a result?
I think an image campaign on the advantages of bioenergy makes a lot of sense. In what way can the topic of an exciting discussion be? What are your ideas for starting such a campaign?