Even if THE WORLD only recently reported that Angela Merkel's constituency is floating on petroleum, this find does little to change the fact that Germany continues to have no significant oil reserves. Estimates assume that a maximum of 40 million barrels of crude oil can be extracted from the new oil deposits in Mecklenburg-Western Pomerania and Brandenburg in a conventional manner. Sounds a lot at first. If one compares this amount with the German daily consumption of almost 3 million barrels of oil, one must be disappointed to find that the new treasures can only satisfy our hunger for oil in just under 2 weeks.
Although Germany does not have any relevant mining facilities for black gold, it is still ahead of France, Italy and Great Britain in terms of annual consumption in the European Union. Worldwide, only the USA, China, Japan, Russia and India consume more oil than Germany.
The offers a current insight into the development of global oil production and regional consumption Statistical Review of World Energy 2013 the BP ("beyond petroleum").
Bioeconomy as a path to a bio-based circular economy
Many boundary conditions confirm that it is important for Germany in particular to think about oil alternatives in good time. In this way, dependency on oil imports can be eased, for which Germany is worth almost 60 billion euros (Source: Federal Statistical Office) annually, which corresponds to 2 percent of GDP.
The use of biomass as a renewable raw material is one of the ways around Withdrawal from petroleum to manage something. Renewable biomass from agriculture, forestry, water and waste management is the resource of a bio-based circular economy and the central commodity of the Bioeconomy.
The bioeconomy between biotechnology and bionics
The bioeconomy is still emerging and many players are influencing the melting pot of this new industry. This colorful diversity also means that depending on the regional origin and the professional background, different priorities are set in the bioeconomy. Above all, the fields of action that are added to the bio-based economy are not always congruent and have led to some scientific disputes in recent years. In addition to food, bioenergy, biomaterials or bioprocesses, the USA also includes biomedicine in the bioeconomy, while the EU only marginally adds this area.
It is a fact that the bioeconomy is strongly influenced by the ideas of biotechnology and bionics and is based in a certain way on their results and products. While green, red, gray, white, brown and blue biotechnology primarily develops processes and products that deliver the goods for the bioeconomy, the bionics branch of research is inspired by the living systems of biology and nature and replicates these technical ones. Bionics and biotechnology combined promise a creative but application-oriented branch of industry around the valuable substance biomass.
So let's be clear: biotechnology, bionics and bioeconomy are closely intertwined and complement each other. The History of biotechnology began at the beginning of the 20th century and since then has strongly influenced our everyday lives - often enriched. The German Industrial Association for Biotechnology e. V. (DIB) sees in the bioeconomy a welcome advancement of their technology-oriented approach.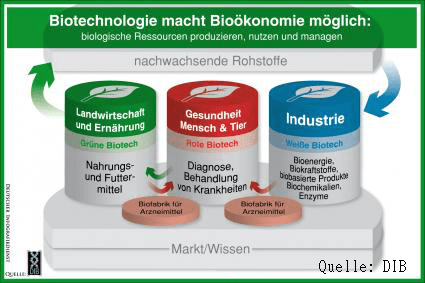 Even if the complexity of the bioeconomy does not necessarily simplify its structure, we should perhaps just be grateful for the colorful appearance of the new branch of industry. After all, we also live in a multicultural and globalized world.
Multicultural united world of bioeconomy
Admittedly, the heading describes an ideal rather than the status quo of the bioeconomy that has already been lived. But firstly, one will still be allowed to dream and secondly, there are already projects for innovative biomass usage paths that are already approaching this ideal today. Technologies and concepts of the bioeconomy come from different parts of the world and are shaped regionally by the dominating biomass electricity.
Biomass is growing everywhere and is the valuable result of sun-driven photosynthesis. There is plant life on all continents and in many countries there is a form of economic agriculture, forestry, water and waste management. In the next article, some companies, associations and institutes are presented that act as actors in the bioeconomy.
What do you think about the bioeconomy and the importance of a European oil withdrawal?