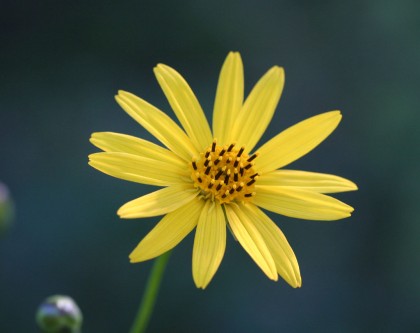 What looks like a delicate ornamental plant at first glance is actually the flower of a plant that is attracting increasing interest from energy producers. We are talking about the "Mixed Silphie" a creative composer.
Silphium perfoliatum for dry locations in Brandenburg

Brandenburg, the "Märkische Sand Sandbox", Is unfortunately not blessed with humus-rich soils and high precipitation values. Therefore the cultivation of relatively demanding arable plants is problematic. Nevertheless, the energy industry in Brandenburg use the C-4 most frequently Giant corn back as input material. This guarantees exceptionally high biomass yields with solid methane yield.
With the increasing spread of biogas plants, government funding for bioenergy and the conflicts of maize monoculture, the search for alternative energy crops is increasing. Particularly promising is the "mixed silphie" (Silphium perfoliatum). It shows similarly high, if not higher Yields per hectare on than the corn.
Below is a list of advantages and disadvantages that the cultivation of the Silphie promises. Thanks also to inspiring suggestions from Dorothea von Dahlen.
Advantages of streaky silphia

More variety in crop rotation. This enables a more land-friendly land use strategy.
Undemanding arable crop. Due to a physiological trick of the daisy family ("cup plant"), the Silphie can catch the condensation in its funnel-shaped leaves and requires less root water from the soil. Therefore, it can grow well in rather dry locations.
High yields. In pilot projects in Thuringia, dry matter yields of 18-28 t / hectare were achieved.
Serves as a diverse living space. Thanks to its extensive foliage, the Silphie offers a wide range of fauna (bees, beetles, birds) a habitat and breeding ground. This makes the agricultural cultivation concept ecologically more valuable and an increase in biodiversity can be expected.
Disadvantages of Silphium perfoliatum
Perennial. This also has certain advantages, but it also means that it only delivers decent returns from the second year.
Missing seeds. There are still problems with sowing the energy plant, as there is no suitable seed available so far and cuttings have to be worked with. The developments in agricultural engineering can help here.
Plant protection products are missing. The approvals for suitable PSM have not yet been completed. Therefore weeds that have to be removed have to be removed by hand at the moment.
Pioneering work with energy crops in Brandenburg
In Neudorf, Brandenburg, initial attempts to cultivate the region are underway on a few hectares. With high expectations or hopes of the Cultivation pioneer Heiko Ganzlin's experience of the first year was a little disappointing. But the experience gained and the gained overview of the existing disadvantages now make one possible Targeted adaptation of the cultivation strategy for the streaky Silphie. It is remarkable what creative strategies different plants have developed to adapt to their climatic conditions.
If you have heard of experiences with alternative energy crops or even made some yourself, then you are very welcome to write them in a comment. It would also be exciting to find out more about the reasons for the farmer or plant operator to do such experiments. In two older articles, the Experiments in energy crop production (Article 1) and differences between Corn and sugar beet (Article 2) reported.
Photo: Thanks to jlucier, pcoin @Flickr