Biomass promises to make an important contribution to the energy and raw material transition and thus also to environmental protection. With all visions, which ones Biofuels, Biogas or the material use of renewable raw materials promise, but there are also dangers that we as beneficiaries of modern biomass use must not lose sight of. Inspired by the film "Tebaran's Testament" by Mattias Klum, which was broadcast on Arte, about the fate of the Penan tribe in the rainforest of Borneo, I would like to write a few thoughts today on the important aspect of the sustainability of biomass use.
Strengthening acceptance of bioenergy
I myself often write about the large-scale use and expansion of bioenergy and believe in the many advantages that these types of use of renewable raw materials can bring. Despite all the euphoria and fascination for this changeable raw material, the view of one of the most important conditions for the success of modern biomass use, especially bioenergy, is sometimes lost. This condition is long-term acceptance for bioenergy in society. It sounds banal, but regenerative bioenergy does not get this social acceptance, it has to earn it.
The potential of bioenergy is that it is a form of energy that can be sustainably obtained anywhere in the world and that CAN provide many countries with a solid basis for a self-sufficient energy supply. Of course, things can also turn out differently if we do not learn and take countermeasures in good time from the mistakes already made when expanding the bioenergy infrastructure.
Even if the current funding situation for bioenergy in Germany will change with the EEG amendment 2012 (see article on the EEG amendment 2012), which has supported the intensive expansion of biogas plants and created what is probably the densest system of biogas plants worldwide. This has created a wealth of experience, which also means that German companies are often asked for support in the implementation of international projects.
Discussions about the deforestation of rainforests for the cultivation of oil palms (ILUC - indirect land use change) and the tank-or-plate discussion show that the expansion of bioenergy for use as a biofuel also repeatedly shows its acceptance limits.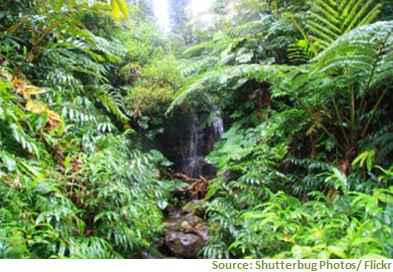 It is difficult to predict which forms of biomass use will result if we manage to dampen the economic demands on bioenergy and consciously strive for sustainable and long-term use of forests and arable land. With this I want to indicate the danger of deforestation of precious ecosystems, and then at this point short term and often only promote the cultivation of monocultures for a few years.
In order to limit the risk of overexploitation, in the good name of regenerative bioenergy, there are also numerous creative approaches on which environmental associations (e.g. the WWF), politics and business work together.
One of the most hopeful instruments for promoting sustainable biomass cultivation is the use of various certification systems for biomass. Certification systems like that ISCC or the system of REDcert, which have been developed in accordance with the biomass sustainability regulations, must be applied since the beginning of 2011 for the biomass that would later receive the EEG payments for bioenergy (see also This article). The certification must be done along the entire path value chain be secured.
Environmental economics support sustainability awareness in energy products
It is certainly not easy to design a scenario in which both the economic development of countries with abundant forests or agricultural areas are supported and at the same time the sustainable use of the affected areas is guaranteed.
As is often observed, environmental awareness and economic calculation do not go well together when designing a new energy product. The consideration of the effects of economic activity on the biosphere is often only a minor point.
Since the reasons and consequences of this type of product development are very complex and I am not working intensively in this area, I would like to outline just a few interesting factors in environmental economics.
If a relatively young industry like modern bioenergy wants to compete with the oil industry, which has come under increasing criticism in recent years, there is a risk that ecological aspects will fall by the wayside at the expense of economic competitiveness.
But there are also various approaches to solving this conflict in order to improve the situation and to price the "external costs" of pollution or destruction into the product costs and thus to give them more weight.
Two environmental policy measures or environmental economics to take greater account of external costs are, for example, the collection of an eco-tax and the trading of emission rights. Both instruments mean that products that have a low ecological footprint receive a cost advantage for this form of "environmental quality" compared to similar products that have a more serious ecological footprint.
Last but not least, I would like to recommend the film "Teberan's Testament", which deals with the problem of rainforest deforestation with great sensitivity and from an unfamiliar perspective.
What do you think? are Certification systems for sustainable biomass able to prevent deforestation for the production of biofuels?