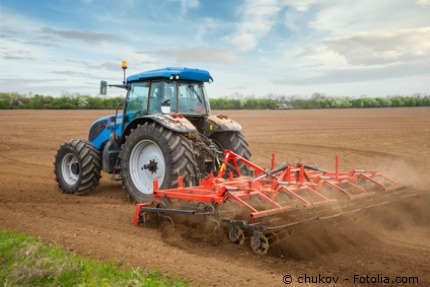 What can biofuels do? Can you get a tank and plate? Or are the biofuels in the tank responsible for hunger in many countries around the world? Since that EU Commission plansto change the promotion of biofuels has once again become a hot topic of controversy. However, one of the most important questions for now and for the future is lost in the debate and is: Who produces our food and at what price? Lutz Ribbe, director of nature conservation policy at EuroNatur and manager at ZIM-NEMO network project agrarANTRIEB, has a clear position here:
"We need vegetable oil fuels in the tank of the tractors so that food for the plate can be produced. We call this: plate through tank. "- Lutz Ribbe, agrarANTRIEB
The use of pure vegetable oil fuels is the only conceivable alternative to mineral diesel in agriculture and forestry as well as in other environmentally sensitive areas. "Those countries that already have no access to fossil oil are suffering from hunger and poverty," says Ribbe. In view of increasing scarcity and the associated inflation rate, their number will increase even further. What could be more obvious than generating fuel in your own fields? All over the world, even in the poorest countries, simple, small material cycles can be created when growing the oilseeds and processing them into cold-pressed, pure oils. In this way, people can participate in what has long since become commonplace in the rich industrial nations: a safe diet for humans and animals.
For them, too, the pressing question arises of how they want to maintain their livelihood in the face of the scarce and expensive resource oil. What are the alternatives if the aim is not to return to human and animal muscle strength? Around 25 percent of the arable land was once used to produce feed for draft animals. In modern agriculture, the horse is in the tractor and needs significantly less. The cultivation of energy crops for agricultural and forestry fuel needs requires about ten percent of the arable land. Two thirds of this crop migrate as high quality protein press cake in the feed trough and replace imports e.g. B. from overseas. Three to four percent of the area is therefore sufficient for pure oil production. The German state agricultural ministers have recognized the great potential of pure vegetable oil fuels in environmentally sensitive areas and ask the Federal Ministry of Food, Agriculture and Consumer Protection (BMELV) for support through tax exemption and funding programs. In Lower Austria you are one step ahead. There, the Chamber of Agriculture launched a 100 vegetable oil tractor support program in September, and the expansion to Austria as a whole is in preparation.
"Vegetable oil fuels in environmentally sensitive areas are environmental and climate protection in practice." - Ribbe
This is a very important signal for the vegetable oil industry as well as for nature conservation. Cultivated in ecologically sustainable mixed fruit cultivation and with defined quantity requirements, they make a significant contribution to land protection and biodiversity. This benefits flora and fauna as well as the farmers who produce food, fuel and animal feed independently and in a crisis-proof manner. The processing structure in decentralized oil mills strengthens SMEs and added value in the regions. Short transport routes and the very good greenhouse gas balance of vegetable oil fuels protect the climate. The available acreage is sufficient for sustainable ecological production in agriculture and forestry and special areas such as water protection areas. Questions about the Responsibility for rainforest deforestation, rising food prices and increasing competition for land are thus dissolving. The use of pure vegetable oil fuels in environmentally sensitive areas does not solve the problems of our global and huge energy requirements. "But it is the solution for a sub-area. Preserving and creating food security is guaranteed not to be a luxury problem. "
Many thanks to Irene Beringer for the guest contribution on vegetable oil fuels. Ms. Beringer is a journalist and responsible for press and public relations for the agrarANTRIEB network.
In the following short film the principle of agrarANTRIEB is presented.