Anyone who reads the bioenergy blog regularly will know that I am very critical of the very negative tone of the current biofuels debate in Germany. If we are informed about biofuels in the high-circulation daily media, then often in connection with rainforest deforestation, Hunger and missing CO2 reduction values ​​(ILUC). Biodiesel from palm oil is the main criticism of the problem of rainforest deforestation. How is the sustainability of biodiesel from Malaysia and Indonesia, the main exporting countries, and how strongly is the perception influenced by solid lobbying by NGOs and fossil fuel manufacturers? The Malaysian Palm Oil Council (MPOC) organized a seminar in Berlin on the topic of sustainability of palm oil. In order to get an impression of this highly emotional and very sensitive topic myself, I visited the biofuel event and wrote this article.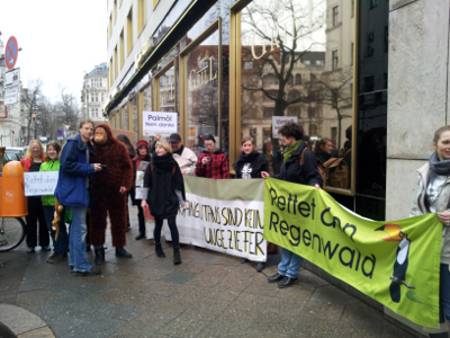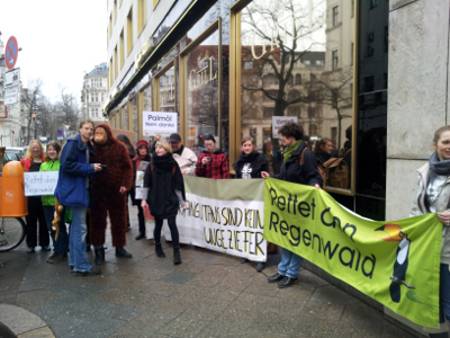 Between supporters and opponents of biofuels made from palm oil
"Palm oil - experiences, challenges, perspectives" was the neutral title of the palm oil seminar, which took place on March 1st COPD was organized.
Environmentalists have gathered in front of the hotel where the palm oil seminar was held to protest against the use of palm oil. To put it more politely and cautiously, environmentalists have pointed out the risks of using palm oil.
I went to the event of the palm oil industry in Malaysia myself with the knowledge that Malaysia earns at least 20 billion euros per year from the processing and sale of palm oil and thus benefits greatly from the cultivation of the oil crop. In the end, however, I was pleasantly surprised by the MPOC's responsible approach.
It's hard to say whether I was taken in by the good lobbying of the palm oil industry, but I see the industry with a much less concerned look than before the event about palm oil from Malaysia.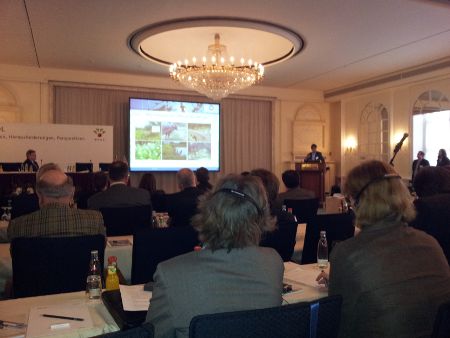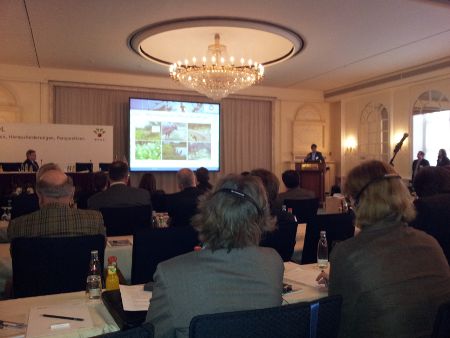 With 20 billion euros, palm oil is one of the most important sources of income in Malaysia
Ambassador Malaysia in Germany, HE Ibrahim Abdullah, briefly outlined the importance of palm oil for his country.
Palm oil has had a decisive influence on the rapid development of Malaysia in the past 50 years and has made a great contribution both in terms of energy supply and in the creation of jobs. Palm oil is one of the most valuable commodities in the almost 30 million country in Southeast Asia and currently secures around 1 million jobs.
Over the past decades, palm oil has experienced a real boom in Malaysia - with all the advantages and disadvantages.
Annual trade between Germany and Malaysia is currently around 10 billion euros, with Germany being the 9th most important export country for Malaysia worldwide and the most important within the EU.
Germany is also one of the main importers of Malaysian palm oil, whereby only palm oil that is certified as sustainable is used for energy use in Germany and the sustainability guidelines are observed. Overall, only a small portion (about 1 percent) of the palm oil produced in Malaysia is used for the production of biodiesel, and palm oil products such as margarine and shampoo as well as other food and cosmetic articles dominate.
The ambassador also speaks of the fact that sustainability has become a very important aspect in the management of palm oil plantations and that cultivation has improved considerably in the past 10 years.
Palm oil: cheaper and more space-efficient than rapeseed oil and soybean oil
Dr. MPOC's Kalyana Sundram discussed other special features of palm oil.
According to this, 31 percent of global vegetable oil production currently comes from palm oil, which corresponds to 46 million tpy. The consumption, or the demand, for vegetable oils and fats is currently somewhat larger than global production.
The main exporters of vegetable oils are Indonesia, Malaysia, Argentina and Brazil.
A big advantage of oil production with oil palms is that the oil yield per hectare is significantly higher than with all other oil plants. This also means that the largest amount of vegetable oil can be produced on the smallest arable land and thus the best area efficiency is achieved. Most of the arable land worldwide is used for the cultivation of soybeans, then for rapeseed and sunflower and only in fourth place for palm oil.
The oil yield from palm oil is between 4 - 6 tons of vegetable oil per hectare per year. The yield of rapeseed oil is around 1.5 - 2.5 tpy. This yield advantage makes the oil palm very interesting not only from an economic but also from an ecological point of view. The ecological advantage of area efficiency only comes into play, of course, if no ecologically valuable areas (rainforests) are broken down to cultivate the oil palm.
Wienke von Schenck from the Agrarmarkt Informationsgesellschaft (AIM) added in her presentation that palm oil with a share of 40 - 45 percent is the dominant vegetable oil among German imports. Germany imports the palm oil through the port in Rotterdam, primarily from Malaysia and Indonesia. The 4 most important vegetable oils in German refineries are:
rapeseed oil
Palm oil
soybean oil
Sunflower oil
A big advantage of palm oil is that it is still comparatively low in price. Accordingly, one tonne of palm oil currently costs between 1 and 700 euros, which makes palm oil the cheapest vegetable oil in Europe. For the use of 900 ton of rapeseed oil or soybean oil, 1 - 900 euros currently have to be spent. Ms. Schenck points out, however, that the excellence of palm oil over rapeseed oil has decreased somewhat in recent months.
Malaysia has taken comprehensive measures to make palm oil sustainable
As one of the most important palm oil producing countries, Malaysia naturally has a strong interest in long-term partnerships with the importing countries. Accordingly, Malaysia is also interested in adapting to the requirements of international customers. If the sustainability of palm oil is an important criterion for the sale of Malaysian palm oil to Europe, then Malaysia will adapt to this customer request.
But also out of national pride, Malaysia, which is one of the 10 most biodiverse countries in the world, has an interest in protecting its valuable rainforests. None of the very diplomatic representatives of Malaysia have put it so charmingly, but the Malays do not need Europeans to be aware of their own natural resources and their value. In Germany, we don't need the advice of Malaysia's residents to understand how valuable our own forests are!
Viewed from a distance, we in Europe often only perceive the sharply pointed images and texts of the NGOs (Greenpeace, Rettet den Regenwald), when we look at them we all too quickly forget that the Malays, of course, care about their own country and that they care about it The palm oil industry's sustainability problem was aware of it much earlier than we in Europe. But just like in Europe, grievances in Malaysia do not change with a snap of the finger, but take time to develop and implement measures.
Malaysia, together with the WWF, developed strategies to improve the sustainability of the country's most important economic asset well before the public outcry about sustainable palm oil in Europe. The country is a founding member of the Round Table of Sustainable Palm Oil (RSPO), which started in 2004, long before REDcert or ISCC, to set up a system for sustainability certification for palm oil.
Kalyana Sundram of the MPOC, for example, assured that no other areas, and therefore no rainforest, are currently used for the cultivation of oil palms. In Malaysia, the total area under cultivation is currently 5 million hectares (250 million hectares of arable land worldwide).
In Malaysia there is a statutory upper limit ("cap") for the land area that can be used for agriculture and forestry. It must be added, however, that Malaysia is taking a pioneering role in the region with this limiting measure and that other countries will hopefully follow suit in the future.
Germany and Malaysia are roughly the same size, whereby Germany, according to Mr. Sundram, even manages a larger part of its forest area than Malaysia.
Malaysia is already using a comprehensive catalog of measures (EEP1 to EEP7) to increase the ecological sustainability of palm oil cultivation, which also includes a complex reforestation program. From a bioenergetic point of view, the measures to accelerate the expansion of biogas plants and the production of second generation biofuels from residues from palm oil processing should be mentioned in particular.
Are we consumers willing to pay more for sustainable palm oil?
This is one of the crucial questions and it relates not only to the comparatively rare palm oil product "biodiesel", but to palm oil products as a whole (margarine, candles, detergents, etc.).
What percentage are we willing to pay MORE for an otherwise equivalent product if it was produced in an ecologically sustainable way and even contributes to climate protection in the case of biodiesel. In a sense, unfortunately, organic products are still often luxury products for which the ecological added value of the consumer also has to pay a higher price.
Experience shows that a pessimistic answer to the above question about the accepted additional costs is still very justified, at least in the fuel sector. Given the already high historical prices for fuels, only a few consumers are willing to pay more money for eco-energy products at the petrol station (biofuels).
In the area of ​​green electricity and above all in eco-food, there is a greater willingness to spend more money on ecological quality. I can only speculate as to why this difference in willingness to pay is possible and maybe it is simply the fact that there is significantly more and more successful marketing in the eco-electricity and eco-food sectors.
The palm oil industry in Malaysia has seen a strong trend towards ecological sustainability in recent years. However, we consumers in Europe are still hesitant to reward this commitment with a change in buying behavior. Either because we know too little about the sustainability efforts or because we don't trust the measures taken. The acceptance of palm oil certified as sustainable (RSPO, ISCC etc.) by the major food manufacturers in Europe (Nestle, Unilever, Danone etc.) is at any rate very low, according to the MPOC.
So it happens that the palm oil fat used in chocolate is the only ingredient that can currently be certified as sustainable. But the customer either does not seem to be interested in it or is not sufficiently informed ?!
As moral as it sounds, but if we point to others, then at the same time we should at least critically question and change our own buying behavior.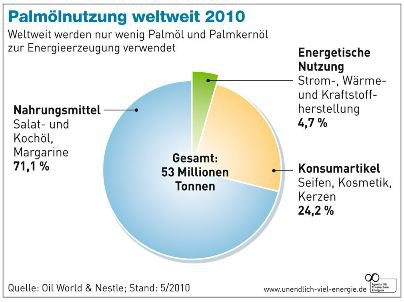 Conclusion on the sustainability of palm oil
Not all major palm oil producing countries are on the same level with regard to their efforts to increase sustainability. In any case, the MPOC event convinced me that Malaysia is trying everything to meet the sustainability standards that consumers and NGOs want. Unfortunately, these efforts have not yet been adequately rewarded by consumers.
After this MPOC palm oil seminar, I cannot provide any information about the sustainability of palm oil from Indonesia - neither in one direction nor in the other. The fact is, however, that every producer country will meet the toughest sustainability standards for its production of vegetable oils at the latest when the consumer is prepared to buy these products in return.
It remains to be stated that palm oil plays a subordinate role in the production of biodiesel and that "only" about 4 percent of the globally produced quantities of palm oil flow into energy use.
Without a doubt, the commitment to protecting the rainforest, as NGOs do, is very important to protect valuable and species-rich ecosystems. NGOs must put their fingers in the wound to uncover and publicize "environmental crimes"!
Organizations such as Greenpeace and Rettet den Regenwald should also take into account corporate social responsibility, which, for example, brings 1 million people to Malaysia in wages and bread. It is usually only a fraction of the producers who overexploit nature and thus endanger the reputation of the entire industry.
Everyone is free to do something very committed against the use of palm oil and someone should do it (!), But the social task and responsibility that the palm oil companies ultimately fulfill together (1 million jobs in Malaysia alone) should be with keep in mind when choosing your approach and designing a campaign.
What do you think?