At the end of the article series on mini-biogas plants, I would like to point out a property of bioenergy that is very close to my heart and about which little is yet reported. Bioenergy and especially the decentralized gaseous biogas technology can contribute to the establishment of a self-sufficient energy supply in countries whose energy infrastructure is less developed than that of the countries of Europe. This article looks at the great potential of mini-biogas plants for developing countries, since these small plants experience a strong development spurt with the EEG 2012.
Germany is the world market leader in biogas technology
Germany's special position in gaseous bioenergy must also be valuable for the implementation of international projects. It is too! Numerous plant manufacturers (Weltec, EnviTec, MT-Energie etc.) are already active internationally and are building biogas plants in Poland, Italy, the USA or China. So far, however, it has mainly been about larger biogas plants beyond 500 kWel.
Of course, this international cooperation should not be understood as an altruistic gift of technological know-how and associated project experience, but the resulting partnerships lead to win-win situations for the companies involved, their employees and the countries from which they come.
The pioneering role of German companies, which has developed in this country thanks to the biogas euphoria of recent years, can also be used for establishing international partnerships in smaller ones Performance segment of biogas plants can be used.
When I write about the EEG and new technologies for biogas processing in Germany, the dream of a modern AND "world-improving" bioenergy sometimes slips into the background. But bioenergy can also have exactly this face and it stands for an energy system that only enables many people to have access to their own energy supply.
Biogas backpack and micro-biogas plant as pragmatic biogas technologies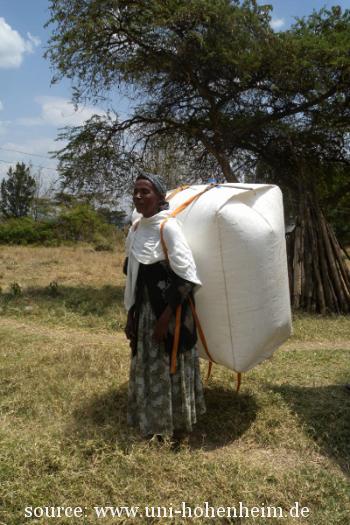 You probably know this picture of the biogas backpack. If not, enjoy one of those rare moments when you encounter a simple, inexpensive but very effective innovation.
The biogas backpack is a technology "Made in Germany" and was developed at the University of Hohenheim. Katrin Pütz from Institute of Agricultural Engineering at the University of Hohenheim has developed a deployment strategy for small farmers in Ethiopia following the technological development of the biogas backpack.
The biogas backpack is certainly the smallest biogas plant in the world. Strictly speaking, the biogas backpack also does not produce biogas, but is an effective storage medium for transporting the valuable bioenergy source.
When filled, the biogas backpack weighs only 3 to 4 kilograms and, according to Ms. Pütz, is intended as a "solution to one of the most pressing environmental and energy problems for small farmers in Ethiopia". A comprehensive one Description of the biogas backpack can be found on the website of the University of Hohenheim.

The project is another interesting model for the use of mini-biogas plants in developing countries "BiogaST". Within this project, the organization Engineers Without Borders has been building a micro biogas plant in Tanzania since 2008.
The interesting and award-winning concept of the micro-biogas plant by the South African company shows that the biogas industry, at least in South Africa, is already enjoying a broad operating community AGAMA biogas.
The micro-biogas plant BiogasPro measures 2 m in diameter and 2.5 m in height. The weight of the system is approximately 300 kg. With substrates such as chicken, goat and pig manure as well as organic waste, an output of around 3.5 kWel can be generated. The entire micro-biogas plant can be completely installed within 2 days if the soil conditions are appropriate.
These micro-biogas plants thus serve an even smaller power segment than the 75 kW mini-biogas plants of the EEG 2012. The 3.5 kW plants are sufficient to cover approximately the electricity requirements of a 4-person household.
Thanks to the amendment to the Renewable Energy Sources Act (EEG), which came into force in early 2012, a technological leap in the development of mini-biogas plants up to 75 kW in Germany can be expected in the coming months and years. In combination with the experience gained from the first biogas projects in developing countries, the expansion of these small biofuels can pick up speed.
Energy revolution for regions without their own energy supply
In order to really understand the great potential of mini biogas plants, in my opinion you have to avert the bioenergy focus of Germany and the EEG 2012. In Germany, a project to set up a mini-biogas plant up to 75 kW has to be calculated very carefully so that it can actually compete economically with other energy supply options.
Developing countries can benefit from this existing pressure to optimize in Germany. With regard to the production costs and the biogas yield, the small plants will have to be examined in great detail in the coming months and years in order to improve their profitability.
In developing countries, the framework conditions for the potential of a mini biogas plant are completely different. The holistic development potential for the agricultural region in which the biogas plant is being built is much more obvious and can hardly be expressed in cash flows. A mini-biogas plant can mean electricity and heat all year round for a place where family members used to travel up to 10 kilometers a day to get firewood. For many African villages, mini-biogas plants actually mean their own power plant, for which they do not have to import fossil fuels!
It is difficult for us to imagine the development opportunities that result from a continuous energy supply for education, sanitation and the local economy. Articles have already been published on BiomassMuse about the potential of bioenergy for developing countries and for the economic powers of tomorrow.
"Let's invest in Africa!"
With such a statement, the dark cloud of economic imperialism contracts all too easily. As a European, you are very careful with your investment euphoria for developing countries. But despite all the risks, investments are also a good way to flush capital into African countries, boost the local economy and of course open up new markets. With sustainable planning, investments can be a financial way of "helping people to help themselves".
"If you want to help Africa, invest in Africa."
The following film shows that not only I see it that way, but also someone who understands a lot more about the economy of African countries. In this very lively TED speech, Ngozi Okonjo-Iweala calls for more investment in Africa. Ms. Okonjo-Iweala knows what she is talking about and from 2003 to 2006 she was Nigeria's finance and economy minister - the most populous country in Africa.
Obstacles to the rapid expansion of mini biogas plants
Why am I still a bit cautious when formulating this dream of mini biogas plants for developing countries?
A fundamental problem is that the langfristig to It is difficult for companies to take into account the development of a region. A lack of political stability and legal uncertainties also deter potential investors. Hardly any medium-sized company from Germany will have African countries (especially the Sub-Saharan) on their radar for interesting investment regions.
The existence of a company on the market must be secured by short-term black figures. However, development aid is often a long-term investment in the development of a region and is therefore difficult for companies to make when making investment decisions.
Approaches to develop the potential of mini biogas plants
It is important that a much greater differentiation takes place using the example of the African continent. It is all too easy to fall into the trap of generalizing the situation in African countries and regions and seeing only hunger, corruption and political conflicts everywhere. This picture of a thoroughly cruel and starving continent is, of course, far from reality and does not necessarily help to further improve the economic situation.
Admittedly, it is risky for plant manufacturers and investors to opt for a mini-biogas plant project in a developing country. With good planning, this courage for an unknown market can also be the best decision a company has made in its history.
In Germany alone there are at least 14 Manufacturer and supplier of mini biogas plants with which you ultimately have to go into tough competition. As a biogas company that has so far mainly been active in the German home market, and thus in the market-leading region worldwide, the competitive situation in many African countries will be much more relaxed.
What should you pay attention to when planning pilot projects for mini biogas plants in developing countries?
To put it simply, the following partners and project phases must be taken into account in order to be able to hand over the first mini-biogas plant to the regional administration in a few years.
Partnerships are essential when bilateral partners meet.
Exploratory talks with potential partner regions and their representatives must be held.
Banks or investors have to be convinced and won over. Public-private partnership (PPP) projects may be set up.
Risk-taking plant manufacturers for the technical implementation of the mini biogas plants must be found.
Transport of the system (water, rail, road)
Installation and commissioning of the pilot system as a modular or compact system.
Sounds simple right? Ultimately, it is nowhere near as difficult as it was 35 years ago when the Society for Technical Cooperation (today CHALK) started the professional implementation of such development projects.
Of course, as with any other project, you encounter problems with implementation, but the knowledge of cultural differences and concepts for successful and networked cooperation have developed strongly. Many mistakes in the euphoric early days of GIZ / GTZ no longer have to be made today, as one has a wealth of experience.
Help for self-help for both countries :-)
From a German point of view, the heading is of course very cheeky, but I believe in it. We can learn as much from African countries as they can from us. You have to keep that in mind with all technological leadership.
In development projects of this kind, one should certainly also be a dreamer to a certain extent in order not to overestimate existing negative experiences of the past or to engage in new partnerships despite these mistakes.
In my opinion, the changes to the EEG 2012 and the consequences for small-scale biogas plants open a new door for successful partnerships with developing countries in the field of biogas technology.
The large companies in the biogas sector in particular can use their staying power to promote pilot projects and include them in their portfolios. These can be viewed as a long-term investment in building a new market or simply as a humanistic project. If it is economically easier to justify, could the less profit-oriented projects even be partially financed from the marketing department's budget ?! It would be great news if some of the major German plant manufacturers were involved in the planning of projects for mini-biogas plants in developing countries.
To all biogas plant manufacturers: "Use this opportunity!"
Anyone who has worked in stable regions of Africa for a long time will admit that the exchange with the African mentality is a unique enrichment.
During a study visit to South Africa, I learned a lot from the South Africans and their colorful society, so I am convinced of the economically fruitful exchange in the field of biogas. South Africa is now one of the BRICS countries and is therefore more like an OECD country than an emerging country in many evaluation criteria. Just like in Europe, not all gold is shiny in the African countries, but it is also nowhere near as dark as the "Africa" ​​known from the news.
How can we use our rapidly growing biogas know-how to support other countries in building their energy industry? What do you think?