It is becoming increasingly clear that the energy and raw materials turnaround are two social processes that will accompany us over a longer period of time and that cannot be mastered in one big huck-jerk action. The detachment (withdrawal) from the fossil and finite energy sources to the renewable and infinite representatives mean a deeper social change than could have been foreseen a decade ago. It is therefore all the more important that the opportunities and conflicts of this tradition-spanning process are also shared with future generations
A fine example of the transfer of experience and knowledge of today's bioenergy experts to Tomorrow's designers is the new brochure "Bioenergy Compact", which was developed for schoolchildren. I would be interested to hear what teachers think of the type of bioenergy presentation in the brochure. It would also be exciting to hear what students think about bioenergy who may have come into contact with the topic for the first time through the brochure.
Notice from the FNR regarding the publication of the brochure (May 28.05.2013, XNUMX):
Energy from renewable raw materials (bioenergy) can play an important role in the context of the energy transition, but also has to face critical questions. The new educational magazine on the topic of "bioenergy" contains current figures and practical examples. It is made available to 14.000 schools free of charge and offers a sound overview of the state of play.
The political framework for energy supply in Germany has changed significantly. Environmental and climate protection as well as the exit from nuclear energy require a restructuring of the supply systems, the implementation of which is at the center of a social debate. The role of bioenergy also raises questions. On the one hand, it supplies two thirds of the largest share of renewable energy generation in Germany. On the other hand, there are fears that an increasing demand for bioenergy could B. suppress food cultivation.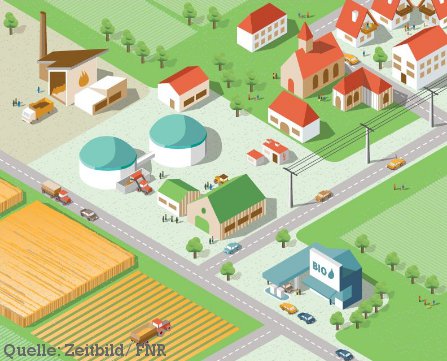 Information brochure for 14.000 schools
The new Zeitbild WISSEN magazine on the topic of "bioenergy" not only contains current figures on energy supply in Germany, but also provides insights into how bioenergy works in practice. Short best practice examples are supplemented by portraits of successful practitioners. It is explained in a generally understandable and descriptive manner how plants for bioenergy production work. Critical aspects are given as well as reasons that speak for the use of bioenergy. The mini brochure "Bioenergy compact" with central facts and clear graphics enables a quick introduction to the topic.
Zeitbild Wissen "Bioenergy" continues the series of energy policy educational materials from Zeitbild Verlag and is made available to 14.000 schools free of charge. The magazine and mini brochure were created in cooperation with the support of the Fachagentur Nachwachsende Rohstoffe eV (FNR).
Publisher of the brochures
Time picture is the leading publisher for education and communication in Germany and has been dealing with complex topics from politics, economy, technology, environment and society for more than fifty years. Zeitbild is a recognized institution at over 40.000 schools and educational institutions throughout Germany. In addition to print media, Zeitbild implements educational products and projects, for example in the form of workshops, competitions, events, websites and mobile apps, etc. for teachers, educators, parents, children and adolescents, but also doctors and multipliers. Zeitbild's partners include top federal authorities as well as NGOs, companies and associations, but also unions and foundations.
Specialist agency for renewable raw materials eV (FNR) is the project sponsor of the Federal Ministry of Food, Agriculture and Consumer Protection (BMELV) and is responsible for the "Renewable Resources" funding program for research, development and demonstration projects. In addition, it carries out measures for consumer information and public relations and is involved in various EU projects on renewable raw materials.
Download the bioenergy brochures