A great idea from the field of bioenergy with magical attraction. What if there were a process technology with which the renewable raw material biomass could be converted into any form comparatively easily and the geomorphological effect of many millennia replaced by just a few hours?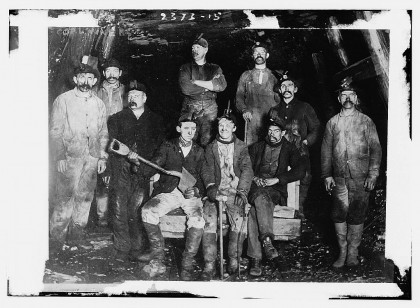 Despite the "shovel guitar player" in the photo, coal mining in a mine was certainly not a great pleasure. The extraction of coal now has a more attractive alternative. The director of the Max Planck Institute for Colloid and interface research (Potsdam), Markus Antonietti, has an article in the magazine MaxPlanckResearch (2/2006) received over 1000 questions from all over the world and was very surprised by this overwhelming feedback (see also article HTC in Berlin-Brandenburg).
The article was about a process called "hydrothermal carbonization" (HTC) that he and his team described. The process has been known for over half a decade. The process itself is much older ("carbonization"). A detailed investigation and considerations for a large-scale use are only now becoming increasingly interesting again. And the apparently so simple, with great effect, is actually very attractive.
What is so revolutionary about hydrothermal carbonization and what makes the idea so fascinating?
The process engineering looks in simplified form as follows. Biomass is placed in a pressure vessel and a catalyst is added to accelerate the reaction. The container is hermetically sealed and properly heated with thermal energy (180 ° C). The rest is done by time, which means that there is a wait of about 12 hours. This treatment of the decoction creates a kind of coal dust and water in the container. Pure coal dust is obtained after drying. In this article you will find further information on the production of biochar by HTC, pyrolysis or torrefaction
It is therefore not a way of generating energy, but rather a process to process organic matter. In a way, a refinement of biomass into a certain one molecular structure. It is particularly exciting that by slightly changing the general conditions (duration of cooking and temperature) different products can be generated. By varying the cooking time, either humus, peat, brown coal or a type of petroleum can be produced.
Perhaps the conversion of hydrothermal carbonization is not quite as fascinating as the possibility of turning water into wine or stone into gold, but the undermining or Outwitting time has something magical about it. The process is a kind of "Earth History in Time Lapse".
According to Marcus Antonietti, the most effective use of the coal powder is not the subsequent combustion, but the conversion into electricity in one Carbon fuel cell. At Harvard University there is a pilot plant with an electrical efficiency of 60%. In addition, for the process of HTC only Waste materials and no high-quality biomass that could also be used as food.
Critical examination of the process
I do not want to stand up and make any speculations about process engineering based on remote diagnostics, but of course at this point a curious reader may ask some questions about the hydrothermal carbonization process.
The most obvious question in my opinion is the question of the energy balance? If the pressure vessel has to be heated to 12 ° C for 180 hours (including catalysts) without producing any energy or triggering an exothermic reaction, how can a good overall energy yield take place when the coal dust is subsequently used? Does the produced coal dust provide enough energy that the previous energy-intensive processing and drying is worthwhile? Perhaps the required amount of heat from the steadily increasing use of CHP systems could be used to run the process. In the near future, large amounts of heat will be generated (e.g. from CHPs), for which there are not always enough uses (especially in summer). Nevertheless, the amount of heat required would have to be taken into account in the energy balance.
What exactly or how big is the difference between hydrothermal carbonization and pyrolysis (biomass gasification)? Do the two differ mainly in their framework conditions (higher temperature and higher pressures during pyrolysis) or are there more fundamental differences? The products of the process appear to be similar (synthesis gas, coal). In particular, indirect pyrolysis with exclusion of oxygen and hydrothermal carbonization sound to me according to the same process under a different flag.
Despite my skeptical or at least critical attitude, I am pleased with the new one (Newly developed) process engineering very much and I keep my fingers crossed for the further development of hydrothermal carbonization.