BiomassMuse offers its readers and the players in the bioenergy industry the opportunity to publish their own articles. In this way you can present your professional experience in connection with bioenergy or simply your personal opinion directly to a specialist audience. The design of bioenergy and the energy turnaround in Germany are ultimately decisively shaped by the ideas and experiences that industry players collect and share. What experience have you had with a new technology, what do you think about the new law or which trend do you think is promising? You can publish whatever is interesting or important to you here. As a suggestion, you will find a selection of previously published ones here Guest articles on bioenergy.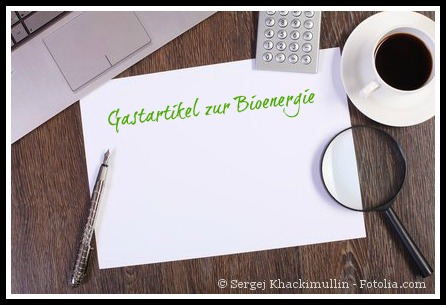 Formal instructions for the publication of an article
If you would like to publish an article, experience shows that there are a few points to consider:
The article should focus on bioenergy (bioenergy sources, process engineering, field reports, etc.), with the respective perspective on bioenergy being chosen solely by the author of the article.
The article should not be a pure PR article for a product or a company event. However, it is possible to recommend a technology or service as a solution to a critically presented problem.
The author can include 2 text links and also pictures / graphics in the article.
The author of the article must be named.
The article should have a minimum length of 400 words. Articles of 2.000 words and more rarely appear on the blog. In such a case it is advisable to publish 2 or 3 articles (series of articles).
The article must be written exclusively for BiomassMuse and must not be used for other websites or copied from a previous publication on the Internet (problem of Duplicate Content!). As an author, you must also have the rights of use for the submitted texts and images.
Do you agree with these framework conditions, which ultimately serve the reader and copyright? Then the readers and I look forward to your look at bioenergy. All submitted articles can be SEO-optimized for a keyword or a keyword phrase, which in combination with the solid Page Rank of BiomassMuse enables long-term visibility in the search engines.
But now the stage is clear for your article!
Inquiries for guest articles on BiomassMuse should be directed to the following email address:
gastartikel@biomasse-fertigung.de
If you already have a finished text, you are welcome to attach it to the email as an attachment.
Suggestions for topics of articles
Experience reports on the operation of a plant or the use of bioenergy
Description of problems and solutions in the production or use of bioenergy
Results of research projects or theses
Feared or desired changes to amendments to the law
etc.
Have fun and thank you very much!