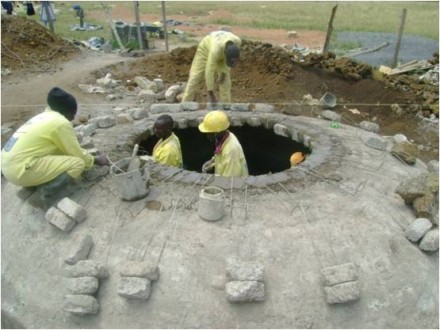 During the past few days I have learned a lot about Botswana and in conversations with a Batswana I got to know better the chances of using biomass on site. Small biogas technology in particular offers great potential and can support the further electrification of the large but sparsely populated country.
Short briefing for Botswana
For Europeans, Africa is often a continent of great contrasts. We encounter fascinating landscapes and cultures in news about current Africa as well as terrifying images of hunger, war and disease.
Botswana is considered one of the Model states for the whole continent. A high level of political and economic stability has ensured increasing development for 4 decades. The Country Corruption Index (2009) is the least in all of Africa and is even lower than in South Korea, Poland or Italy. In combination with the rich diamond deposits discovered after independence from Britain (1966), this ensures a solid flow of capital throughout society.
Botswana is also home to the SADC (Southern African Development Community), an organization similar to the EU of 15 South African countries. Until recently, one of the country's biggest problems was the high and rising HIV rate, which has been increasingly managed through extensive programs in recent years.
Biomass use in Botswana
I've been watching the project for a while Biogastwhich is associated with the installation of Smallest biogas plants in Tanzania busy and from the club Engineer without limits is directed. A pilot plant and branch of Biogast in Germany is located in Hohenheim and another plant is currently under construction in Berlin.
In the course of Biogast so far and my knowledge of the situation in Botswana, transferring the concept to Botswana seems to me to be a sensible option. Both countries of the SADC offer special advantages for the implementation of such projects. In general, regions of sub-Saharan with their large areas of land, high levels of sunshine and more agricultural economies offer good conditions for decentralized bioenegetical plants as a complement to the technologically sophisticated direct use of solar energy.
The framework conditions for biomass growth in many regions of South Africa (temporal and spatial precipitation distribution) are not as good as, for example, in Brazil, but are nevertheless solid due to the adaptation of arable plants. Especially the widespread Animal husbandry (mainly cattle) and the resulting manure provide a good basis for decentralized energy supply through biogas technology. Manure can be easily converted into biogas and the fermentation residue can be applied to the fields as fertilizer.
The Climate summit in Copenhagen many African presidents (including Ian Khama from Botswana) demonstratively left the meeting prematurely because they did not agree with the fundamental tendency of the talks. The awareness of climate change is absolutely present and at the same time there are desire for economic development regenerative energy systems more in demand than ever.
Opportunities for German biogas plant builders too?
As soon as you look for ways of development aid and, for example, transfer products from an industrialized country to a developing country, sometimes the word of the Economic imperialism occur, which can easily poison the common project emotionally.
Cooperation would be ideal in which both parties give as much as they get or become more aware of the resulting synergy effects. But this basic discussion about the different ones International cooperation problems I do not want to start here between industrialized countries and so-called developing countries.
The development opportunities through small biogas plants (less than 50 kW) for decentralized, not yet electrified regions in developing countries are enormous, but the economic dimension is for Investors not very attractive. How can you bring together and respect both interests without being accused of economic imperialism?
The Rabbit foot from small biogas plants is that with decreasing size (performance) they generally have a poorer energy balance than larger plants with the same process technology. Nevertheless, they sink efficiencies not so strong that they do not offer more advantages compared to non-installation and lack of electricity.
I see a great opportunity for developing countries in what is currently taking place in Germany Repowering of biogas plants. So many modules (especially in the area of ​​electricity generation) are made up of modules Cogeneration exchanged. This repowering to improve energy efficiency could be very fruitful for international cooperation.
The remaining, but still fully functional systems could be sold at a very reasonable price (financial win-win situation) or given as a gift to developing countries. The fewer complex technologies in the shipped biogas plant, the better the suitability for rural regions of developing countries. Complicated technologies increase the maintenance effort and thus the dependency on the industrialized nations or complex training programs. Helping people help themselves is a doctrine that I think is very sustainable.
Which type of biogas technology is best suited for a region (e.g. decision between Dry and wet fermentation), should be clarified in discussions and investigations. In contrast to Germany, the lack of water in some regions could give dry fermentation a decisive advantage.
Finally, a link to an exciting film that deals with Smallest biogas plants in Yunnan (China).
Many thanks to Neo Lekgetho from Gabarone for the many inspiring discussions on energy supply and agriculture in Botswana.
Photos: Thanks to Ecosan