Bioethanol is a biofuel which is obtained from plants containing sugar and starch such as sugar cane, corn, wheat, sorghum or cassava.
Bioethanol was originally politically promoted in the 1970s because of the oil crisis because it contributed to the independence from oil and strengthened domestic agriculture. At the turn of the millennium, the climate-protecting effects of biofuels were added, which speak for biofuels made from renewable raw materials.
The use of biofuels varies widely across the world and is usually added to premium petrol. The blending rates vary depending on the country between E5 (5 percent bioethanol), E10 and E25 up to E85.
Below are a few selected articles that take a look at the here and now and the future of biofuels.
Current status of bioethanol
Like most first-generation biofuels, the production of bioethanol from maize or wheat is currently being criticized because the cultivation of the energy crops required for this is in competition with food production. The one associated with the 2007/2008 food price crisis Tank trough plate debate has also dampened the euphoria for the use of bioethanol. Since then, a critical discussion about the risks of bioethanol production has started, whether the use of bioethanol is justified from both a moral and a climate-protecting point of view.
A generalization of the debate in the direction of "all biofuels are bad" is morally just as questionable as a blind endorsement of bioethanol & Co. In many regions, biofuels are the only way to even achieve the use of agricultural machinery. The climate protection effect of bioethanol is only a bonus in these cases. Furthermore, politics and the biofuel industry have adjusted to the wishes of consumers in recent years and the use of bioethanol in Germany has been a must since 2011 be sustainably certified and have a significantly better carbon footprint than fossil fuels.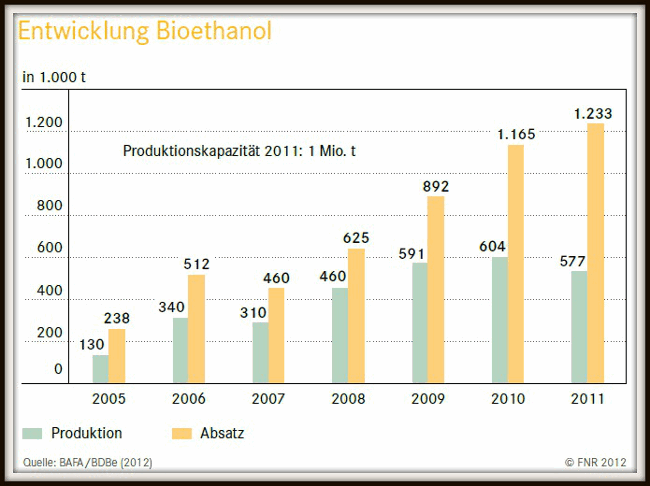 The graphic shows the production and consumption of bioethanol in Germany.
The future of bioethanol
The future of biofuels lies primarily in the expansion of the available raw materials and an increase in ecological sustainability in the production process. Agricultural waste (straw, bagasse, etc.) and wood are "feedstocks" that are researched worldwide for the production of so-called cellulose ethanol. Cellulose ethanol is a second generation bioethanol that solves existing conflicts (competition for space, carbon footprint, availability, etc.) of the first generation and at the same time generally increases the acceptance of biofuels. Another innovative raw material for the renewable ethanol of tomorrow is algae.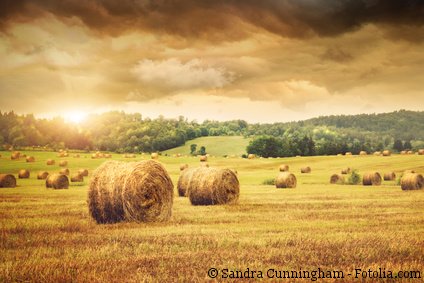 More articles on bioethanol
You can find more articles on the latest developments in bioethanol in the Biofuels category of the blog. The Federal Association of the German Bioethanol Industry (BDBe) and the Association of the German Biofuels Industry (VDB) about the renewable biofuel.
If you would like to take part in the biofuel debate, write one Guest article for BiomassMuse or subscribe to the free one in a first step monthly newsletter by BiomassMuse. Thanks a lot.