"Those who have a choice are spoiled for choice," is the popular saying. From this perspective, I would like to torture you somewhat with the following list of different manufacturers and suppliers of mini biogas plants in Germany. Choosing the right 75 kW system is certainly one of the most difficult decisions you have to make in your "Mini Biogas Project Project". Since I have not yet found an overview with various providers of complete systems or partial components for mini-biogas plants, I have created a list below that offers a market overview of the existing manufacturers. The providers are spread across the whole of Germany.
In an earlier article there are already some questions about the economy of a 75 kW system, or Construction and operation of a mini biogas plant been followed up. This article builds on these fundamental considerations and offers you an introduction to market research for choosing your optimal mini biogas plant.
Which manufacturers and suppliers of mini biogas plants up to 75 kW are there?
The market segment for micro biogas plants has so far been rather insignificant in the biogas landscape in Germany. Only with the new 75 kW system type Mini biogas plant in the EEG 2012 and the historically highest subsidy rate for biogas plants, this performance class has increasingly become the focus of manufacturers and suppliers of biogas technology.
The following companies offer complete systems or components for the construction of a mini biogas plant.
I am in regular contact with some manufacturers of the mini-biogas plants presented about the problems that still exist, but also about the solutions and strengths of the various concepts. With pleasure I advise you to the previous experiences with the plants between 30 - 75 kW or support you in planning your own mini biogas plant. I am grateful to all of the providers presented here for more information on their product. Many thanks.
But now to the growing range of mini biogas plants. Here we go.
The provider AgriKomp from the Franconian town of Merkendorf offers the construction of a so-called "slurry plant" in the performance class of mini-biogas plants. This is equipped with a 50 kW CHP. The fermenter corresponds to a tube fermenter, which can be operated from 10 m3 slurry / day.
The manufacturer and supplier of biogas plants MT-Energie from Zeven is certainly the most experienced and with around 600 employees also the largest company that currently offers mini-biogas plants. For detailed information, the manufacturer of a mini biogas plant offers its own information brochure for the MT-Farm biogas plant with 75 kW
A special feature of the MT-Farm is that the mini biogas plant is designed for the exclusive fermentation of liquid manure. The minimum quantities of 80 percent liquid manure required by the EEG 2012 are expanded to 100 percent for business reasons (no additional substrate storage).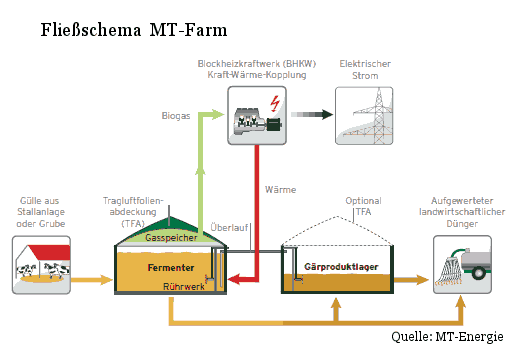 The Biogas-Ost company group from Gehaus in Thuringia offers mini biogas plants between 30-100 kW with the "Clever-Ferm-System". Farmers, nurseries and bio-waste disposal companies benefit from the unique offer of a Mini biogas plant with wooden fermenter.
The wood fermenter is an inexpensive and climate-friendly alternative to steel and concrete and is particularly interesting for the operation of a mini biogas plant.
"Do you have 150 cows or 2.000 fattening pigs? Then you should know the latest developments in biogas plants. "
With this slogan, BioConstruct GmbH from Melle, Lower Saxony, is promoting its mini biogas plant BioCompact. In order to find out whether your own livestock farm is suitable for building such a small biogas plant, a separate form is offered on the website.
The Ökobit GmbH from Föhren in Rhineland-Palatinate offers with SYSTEM FLEX and SYSTEM KORN two construction methods for mini biogas plants. The compact system SYSTEM FLEX is suitable for the 75 kW system according to EEG 2012, since the use of 80 percent liquid manure must be possible. The plant can be used to ferment 4.000 m3 of liquid manure per year and is ready for operation in just 4 weeks.
Schmack Biogas GmbH, which now belongs to the Viessmann Group, has many years of experience (founded in 1995) in the construction of biogas plants and has now also added a mini biogas plant to its range.
The EUCOlino is sold as a compact system and can be operated very flexibly in terms of performance and the substrates to be used. In addition, other patented technologies or the supplier's high-performance bacteria (METHANOS) can also be used in the mini biogas plant up to 75 kW.
The bwe biogas-weser-ems GmbH & Co. KG from Friesoythe in Lower Saxony offers with the "bwe Hofkraftwerk" a complete solution especially for the 75 kW class, from planning through construction and commissioning to maintenance.
The bwe Hofkraftwerke are built with a fermenter (1.300 m³ fermentation volume) and a repository (2.800 m³) as a "container in a container system" in on-site concrete and are completely gas-tight. This enables a flexible use of input materials.
The CHP (gasoline engine) as well as the control and pump technology are housed in 2 containers to save space. A solid matter feeder for feeding manure and renewable raw materials complements the system. In addition, a solution for 100% liquid manure use is offered.
A non-binding offer including economic viability will be created at any time.
KGBH GmbH from Herford in North Rhine-Westphalia offers various complete packages for mini biogas plants. The operator can choose between the power levels 40 kW, 50 kW, 60 kW, 70 kW or 80 kW to implement the new EEG system type up to 75 kW.
According to the provider, the work required to operate a mini biogas plant with 60 kW is only 4-6 hours per week. This expenditure of time is required for the weekly fermenter filling.
In a cooperation between the developer Conviotec GmbH (Flensburg) and the manufacturing and sales partner Consentis GmbH (Wietmarschen), a mini biogas plant is offered, which is to be operated exclusively with liquid manure.
The special thing about the Conviotec biogas plant is that it is offered in a container design. The container works as a multi-chamber fermenter.
Here you will find a film by Conviotec, which provides an insight into the structure of the manufacturer's mini biogas plant.
The company Biogas Nord AG from Bielefeld has international experience in the construction of biogas plants. The team of 180 employees has realized over 300 projects to date.
The BiNoMiniMax mini biogas plant is presented in detail on the Biogas Nord website. As a result, the provider can operate the new mini biogas plant with cattle and pig manure.
The mini-biogas plants of Mineralit GmbH from Laage in Mecklenburg-Western Pomerania are not directly tailored to the EEG 2012, but rather correspond to the company's selected range of services. Mineralit offers small biogas plants between 50 - 300 kW in the bioenergy sector. The supplier's design corresponds to a modular system.
At this point I would like to consider that the description of the mineralog GmbH's biogas plants explicitly mentions that "the process is structured in such a way that agricultural residues (liquid manure, liquid manure, solid manure) are not required. Hopefully this does not mean that residues cannot be used anyway. In this case, the small biogas plants from Mineralit would not be suitable for the construction of a mini biogas plant according to EEG 2012. For the sake of completeness, I first included the supplier's small biogas plant.
Energieraum GmbH is located in Oldenburg in Lower Saxony and offers the mini biogas plant EVA 75. More detailed information on the 75 kW system offered is unfortunately not yet available on the Internet, but can be found out on request from the manufacturer.
Bio4gas Express GmbH from Landsberg am Lech in Bavaria offers both fermenters and CHP units in the order of magnitude required for a mini biogas plant according to EEG 2012.
Further information can be found on the provider's website.
The name Sauter is a household name in most of the German biofuels industry. To my knowledge, there are no family connections between Sauter Biogas GmbH and Claus Sauter, the founder and CEO of Verbio AG.
The provider of mini biogas plants from Klipphausen in Saxony offers the 75 kW plant "SB-Mini". Here you can find one Description of the Sauter biogas system.
"The heart of the Sauter biogas system is the irrigation of the fermenter contents instead of the usual agitation."
In addition, the FNR announced in a press release on January 19.01.2012, XNUMX that Sauter Biogas GmbH and the Agricultural Technical Institute Potsdam-Bornim (ATB) are carrying out a joint research project to better control the biogas process. In the biogas pilot plant of the ATB I was able to complete an internship myself and learn a lot about the hydrolysis process of biogas production.
The company Energie-Anlagen Röhring GmbH from Vreden offers their customers a 75 kW mini biogas plant. The compact biogas plant "UDR-MonoTube" is based on the company's many years of experience in fermenter construction.
The advantages of the system are a short construction time, small space requirements and the possibility of thermophilic operation with thermal disinfection.
The provider CornTec from the Lower Saxony Twist has specialized in a special type of mini biogas plant. The "Kleinvieh" system offered has all the technical components for a 75 kW system integrated in a 40-foot standard container, so that this system can also be operated in cramped yard conditions.
Conclusion on providers and manufacturers of mini biogas plants
All manufacturers and suppliers of mini biogas plants up to 75 kW that I could find are listed in this article. If I have overlooked a provider, I would be grateful if you would refer to it in a comment.
In addition to established companies in the construction of biogas plants, relatively young companies are also trying to gain a foothold in the market for small biogas plants. On the supplier side for mini biogas plants, a colorful market has developed that represents a mixture of innovation, experience and regional ties.
I am surprised that large plant manufacturers such as Envitec, WELtec or Haase have so far shown no ambitions to enter the market for mini biogas plants. I suspect that the market segment of mini-biogas plants is not interesting enough for companies of this size, or that companies see more economic success in the international market for large plants or focus on the processing of biomethane. A market situation that young companies in particular are unlikely to be disappointed with.
My expectation and hope is that some too Manufacturer and supplier of CHP will bring interesting products to the market that have been specially developed for the 75 kW mini biogas plants.
If you have any further questions about the individual manufacturers and suppliers of the mini biogas plants (service offer, experience, costs, etc.), please speak to them directly or ask them to send you a non-binding offer.
Contact at least three or four providers and describe your specific case. In this way you can compare the different statements and work with the provider who is the most likeable, trustworthy or simply the cheapest. A good mix of all these properties is certainly not wrong.
You should pay particular attention to the range of services offered by the various manufacturers and providers. In addition to routine maintenance, a mini biogas plant should, if possible, be in operation all year round in order to generate a solid profit. If you have problems with the operation of the system, you should be able to get help quickly and inexpensively.
I wish you much success and fun with the next stages of your project and adventure mini biogas plant.
If you like, I can contact you at the Advice on planning your own mini biogas plant. I now know many of the paths currently taken, as well as their advantages and disadvantages, and I am in regular contact with providers, operators and associations.
[/ fusion_builder_column] [/ fusion_builder_row] [/ fusion_builder_container]