The bioenergy community has been searching for at least since the critical debates about tank or plate, maizeing (reaction = corn cap) and the accusation of rising food prices through bioenergy alternative energy crops. Depending on whether you want to win a gaseous, liquid or solid bioenergy source, there are various candidates for cultivation. In this article, the energy grass Alkar (giant wheat grass, Hungarian deer grass, giant energy grass) and first growing experiences in Germany are presented.
A promising perennial energy crop
When looking for alternative energy crops, look for plants that have as many of the following properties as possible:
fast growth rates

high levels of vegetable oil or sugar

high biogas yields (model is the corn)

no competition with growing food

Use of proven cultivation and harvesting techniques
Not all parameters have to be met, but the easier the plant can be integrated into the existing cultivation methods, the better. Did I forget an important parameter? The comment function looks forward to your additions!
Also at this year's Annual biogas conference in Leipzig there has been a lot of discussion about alternative energy crops. The following were frequently mentioned:
The list also includes some new energy crops that are not suitable for gaseous, but especially for liquid or solid bioenergy. The decisive factor for the final use is the proportion of sugar and vegetable oil per hectare and year.
You can find more information on alternative energy crops at Information page on energy crops the FNR.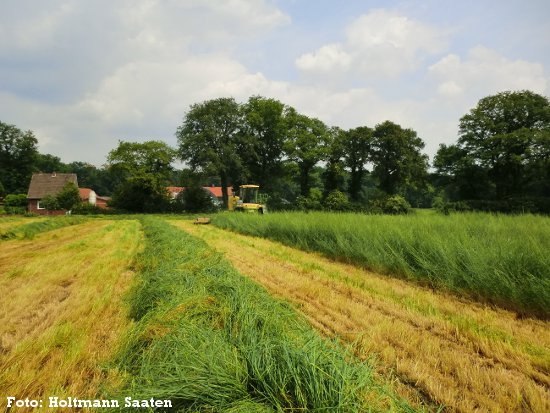 Presentation of the energy grass Alkar
The following information comes from the Holtmann Saaten GmbH. The company specializes in the development of alternative arable plants for biogas production.
Alkar power grass (Agropyron elongatum, Thinopyrom Ponticum) belongs to the family of tall grasses and has its origin in Eurasia. The grass is one perennial, which remained largely unnoticed in Europe until its potential for biogas production was discovered.
Benefits of the Alkar energy grass
Up to 38% more dry matter yield

High gas yields in the biogas plant

Winter hardiness with early growth

Long-lasting growth until October

Variety in the crop rotation

Sow 1 time, harvest up to 5 years (10 times)

Forming humus

Inexpensive cultivation

Conventional harvesting and storage technology can be used
Cultivation experiences
Alkar is a hardy giant wheatgrass and is sown from March to September at a rate of 20-25 kg / ha. In the first year of cultivation in 2012, 12-15t / ha were harvested in two cuts.
In the second year of cultivation by Alkar in 2013, the harvested fresh mass was 45,1 t / ha. The dry matter yield was 12,6 t / ha, an increase of 30 percent compared to the first year of cultivation. The TS content is therefore 28 percent. This confirms the yield potential for use as a biogas substrate and Alkar is particularly suitable as a biogas cosubstrate to supplement corn.
Farmers from Schleswig-Holstein to Bavaria successfully grow Alkar energy grass.
Film shows Harvest from Alkar